August 17th Skamania Fair Run 5K 8am
Fair Grounds, Stevenson WA $5 for non-members, Free for members, day of race registration, cascade@gorge.net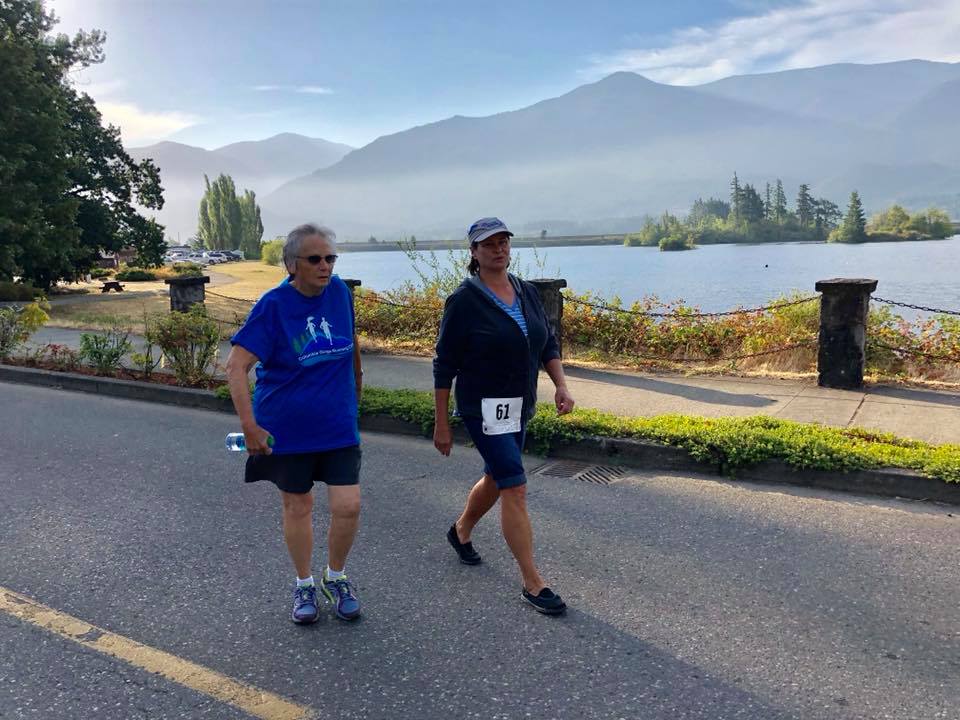 Join us at the Skamania County Fair and Timber Carnival! You can participate in the 5K run/walk before the parade!
NOTE: We'll be running the 5K course that goes around the fairgrounds, out-and-back to the Skamania Lodge, up Vancouver Ave, around the Chevron and back…
CGRC Members: FREE!
Non-members: Only $5!
Where: Skamania County Fairgrounds (Exhibit Hall)
Day of Race Registration only.
Any questions? Contact Madeleine or Bob at cascade@gorge.net.
---
August 18th, 2018 Skamania Fair Run 5K 8am
The Skamania County Fair 5K (3.1 miles) is held in conjunction with the Skamania County Fair. Run in the morning and then stay to enjoy the parade and the fair afterwards! Only $5 for non-CGRC members and free to members. Walkers welcome!
Registration starts at 7:30 a.m.
Race starts at 8 a.m.
Please contact the race directors if you have questions or would like to volunteer! Yes, we need volunteers!
Race Directors:
Madeleine Robert
509 427 4883
Cascade@gorge.net
Past years:
Skamania Fair Run 5K Completed: August 19th, 2017
2017 Race Photos: Facebook photos
Skamania County Fair Run 2016 Results!
Skamania County Fair Run 2015 Results!
Thanks to everyone who turned out for the CGRC Skamania County Fair Run/Walk 5K and walked in the parade with us! We had a great turnout of CGRC members and lots of new faces! We had 56 finishers compared to only 30 in 2012! Overall winners were Eric Dolezal and Katarina Mueller. Many 5K PR's were set, with some people completing their first organized run ever! Way to go, people!!!
Special thanks to Chad Miller (course set-up), Julie Cowart (registration and pictures), Kathy Brashers (road crossing and pictures), Nicole Chaffin (cookies), Stan Holman (equipment, timing and results), Claudia Holman (purchasing candy for parade) and Jennifer Jackson of Skamania County General Services (event support).
We are so proud of being part of the Columbia Gorge Running Club and affiliated with such quality people.
Sincerely,
Esther Holman and Sophie Miller, RD's
2013 Results
| | | | | | |
| --- | --- | --- | --- | --- | --- |
| Place | Participant | Gender | Age | Finish Time | Pace Per Mile |
| 1 | Eric Dolezal | M | 31 | 17:47 | 5:43 |
| 2 | Joe Dudman | M | 49 | 18:05 | 5:49 |
| 3 | Gary Daubenspeck | M | 45 | 18:25 | 5:55 |
| 4 | Bernard Seeger | M | 44 | 19:01 | 6:07 |
| 5 | Katarina Mueller | F | 22 | 20:46 | 6:41 |
| 6 | Madeleine Sellers | F | 55 | 21:00 | 6:45 |
| 7 | Tom Brossia | M | 47 | 22:33 | 7:15 |
| 8 | Patrick Grengs | M | 48 | 23:43 | 7:38 |
| 9 | Joe Kregal | M | 69 | 23:45 | 7:38 |
| 10 | Chad Miller | M | 38 | 23:51 | 7:40 |
| 11 | Anna Schmid | F | 21 | 23:53 | 7:41 |
| 12 | Robert Schmid | M | 55 | 24:14 | 7:47 |
| 13 | Andy Grossman | M | 64 | 25:10 | 8:06 |
| 14 | Louis Lindner | M | 21 | 25:11 | 8:06 |
| 15 | Megan Baker | F | 42 | 25:30 | 8:12 |
| 16 | Susan Lemly | F | 51 | 25:34 | 8:13 |
| 17 | Peter Schmid | M | 27 | 25:35 | 8:14 |
| 18 | Kelli Schnabe | F | 44 | 26:36 | 8:33 |
| 19 | Alyssa Henry | F | 13 | 27:20 | 8:47 |
| 20 | Lori Latendresse | F | 41 | 27:42 | 8:54 |
| 21 | Kathy Mellow | F | 61 | 27:49 | 8:57 |
| 22 | Dennis Medeiris | M | 48 | 28:03 | 9:01 |
| 23 | Kyle Chaffin | M | 46 | 29:41 | 9:33 |
| 24 | Don Impson | M | 54 | 29:42 | 9:33 |
| 25 | McKenna Gould | F | 14 | 30:59 | 9:58 |
| 26 | Troy Prince | M | 12 | 31:56 | 10:16 |
| 27 | Isaac Hoidel | M | 12 | 31:56 | 10:16 |
| 28 | Lesli Schmid | F | 48 | 32:22 | 10:25 |
| 29 | Billie McEathron | F | 40 | 32:47 | 10:33 |
| 30 | Bill Mellow | M | 72 | 34:43 | 11:10 |
| 31 | Jeanne Lamb | F | 43 | 34:44 | 11:10 |
| 32 | Bryan Grasseschi | M | 35 | 36:51 | 11:51 |
| 33 | Julie Wyatt | F | 50 | 38:42 | 12:27 |
| 34 | Rachel Prince | F | 34 | 39:33 | 12:43 |
| 35 | Jessie Taylor | F | 27 | 41:52 | 13:28 |
| 36 | Alisha Cannon | F | 21 | 44:04 | 14:11 |
| 37 | Merritt Brossia | F | 12 | 44:36 | 14:21 |
| 38 | Lisa Pucheco | F | 27 | 45:46 | 14:43 |
| 39 | Becky Daman | F | 51 | 46:17 | 14:53 |
| 40 | Dee Hinzman | F | 50 | 46:18 | 14:54 |
| 41 | Jessica Spencer | F | 31 | 46:44 | 15:02 |
| 42 | Lori Cannon | F | 52 | 47:17 | 15:13 |
| 43 | Shonna Wheeler | F | 18 | 47:29 | 15:17 |
| 44 | Sandra Haynie | F | 68 | 48:37 | 15:38 |
| 45 | Claudia Holman | F | 76 | 49:50 | 16:02 |
| 46 | Jon Arp | M | 68 | 49:51 | 16:02 |
| 47 | Justin Chaffin | M | 11 | 50:58 | 16:24 |
| 48 | Shannon Medcraft | F | 41 | 51:15 | 16:29 |
| 49 | Nicole Chaffin | F | 41 | 51:16 | 16:30 |
| 50 | Dondi Floyd | F | 44 | 51:54 | 16:42 |
| 51 | Roy Floyd | M | 44 | 51:55 | 16:42 |
| 52 | Kristin Sarrge | F | 22 | 54:29 | 17:32 |
| 53 | John Wheeler | M | 70 | 58:08 | 18:42 |
| 54 | Tanya Backmen | F | 41 | 58:09 | 18:43 |
| 55 | David Wheeler | M | 29 | 58:09 | 18:43 |
| 56 | Gloria Haggard | F | 56 | 1:08:22 | 22:00 |

2012 Results:
sites/22/22fbc940f53eeccfb615751e7e7da9a9/attachments/File/2012_Fair_Run_Results.pdf
2011 Results:
sites/22/22fbc940f53eeccfb615751e7e7da9a9/attachments/File/2011_Fair_Run_Results.pdf
2010 Results
Weather was perfect (Sunny, warm, and beautiful)
* New Womens Fair 5K course Record
| | | | | | |
| --- | --- | --- | --- | --- | --- |
| Place | Participant | Gender | Age | Time | Pace Per Mile |
| 1 | Louis Galatz | M | 52 | 18:44 | 6:01 |
| 2 | Preston Brashers w/BJ | M | 28 | 19:57 | 6:25 |
| 3 | Stan Holman | M | 45 | 20:00 | 6:26 |
| 4 | *Kjerstein Brashers | F | 25 | 20:21 | 6:33 |
| 5 | Madeleine Sellers | F | 52 | 20:33 | 6:36 |
| 6 | Rod Holman | M | 47 | 20:55 | 6:43 |
| 7 | Sawyer Olsen | M | 11 | 21:57 | 7:03 |
| 8 | Peter Abraham | M | 46 | 23:22 | 7:31 |
| 9 | Ivan Hooper | M | 37 | 23:28 | 7:33 |
| 10 | Andy Grossman | M | 61 | 24:08 | 7:46 |
| 11 | Chris Karchesky | M | 36 | 24:24 | 7:51 |
| 12 | Kelly Brashers | F | 21 | 24:26 | 7:51 |
| 13 | Brent Currey | M | 56 | 24:48 | 7:58 |
| 14 | Lori Latendresse | F | 38 | 24:56 | 8:01 |
| 15 | Jim Brashers | M | 56 | 25:23 | 8:10 |
| 16 | Sean Hietpas | M | 35 | 25:29 | 8:12 |
| 17 | Bryan Mears | M | 50 | 25:40 | 8:15 |
| 18 | Kyle Chaffin | M | 33 | 27:09 | 8:44 |
| 19 | Leon Branom | M | 38 | 28:09 | 9:03 |
| 20 | Celeste Branom | F | 32 | 29:19 | 9:26 |
| 21 | Amy Hietpas | F | 36 | 29:42 | 9:33 |
| 22 | Jim Joseph | M | 65 | 29:49 | 9:35 |
| 23 | Jennifer St. Clair | F | 47 | 29:55 | 9:37 |
| 24 | Alice Awaad | F | 46 | 30:24 | 9:47 |
| 25 | Wolfgang Hauser | M | 74 | 30:45 | 9:53 |
| 26 | Miles Holman | M | 16 | 30:45 | 9:53 |
| 27 | Roger Lembrick | M | 65 | 30:59 | 9:58 |
| 28 | Nicole Chaffin | F | 38 | 31:04 | 9:59 |
| 29 | Lynda Esaacson | F | 46 | 31:27 | 10:07 |
| 30 | Julie Korenko | F | 38 | 31:54 | 10:16 |
| 31 | Kathy Brashers | F | 54 | 31:56 | 10:16 |
| 32 | Bill Mellow | M | 69 | 31:57 | 10:17 |
| 33 | Kathleen Mellow | F | 59 | 31:59 | 10:17 |
| 34 | Ken Levy | M | 44 | 33:47 | 10:52 |
| 35 | Ethan Holman | M | 14 | 39:46 | 12:47 |
| 36 | Sally Skaar | F | 59 | 41:15 | 13:16 |
| 37 | Bruce Burke | M | 60 | 42:37 | 13:43 |
| 38 | Claudia Holman | F | 73 | 49:04 | 15:47 |
| 39 | Malia Cannon | F | 14 | 51:48 | 16:40 |
| 40 | Julie Wyatt | F | 47 | 51:48 | 16:40 |
| 41 | Alisha Cannon | F | 18 | 51:49 | 16:40 |
| 42 | Lori Cannon | F | 49 | 51:58 | 16:43 |
| 43 | Susie Dorn | F | 65 | 54:20 | 17:29 |
| 44 | Fern Armstrong | F | 74 | 54:21 | 17:29 |
Early Leaders Ivan on his horse Timer Mark waiting for runners
Bruce Burke Many of the Brashers
___________________________________________________________________________________________________________________
2009 5K Results:
Weather was Partly Cloudy, and mid 50's
Place
Participant
Gender
Age
Time
Pace Per

Mile

1
Stan Holman
M
44
17:53
5:45
2
Gary Daubenspeck
M
41
20:39
6:38
3
Ivan Hooper
M
36
21:36
6:57
4
Madeleine Sellers
F
51
21:55
7:03
5
Dan Dickerson
M
40
22:23
7:12
6
Brad Anderson
M
45
22:50
7:20
7
Kelly Brashers
F
20
23:02
7:24
8
Jim Brashers
M
55
23:06
7:26
9
Nathan Sellers
M
52
23:48
7:39
10
Chris Karchesky
M
35
24:09
7:46
11
Sawyer Olsen
M
10
24:11
7:47
12
Miles Holman
M
15
26:49
8:37
13
Sonia Schuemann
F
45
27:23
8:48
14
Amy Weissfeld
F
40
27:53
8:58
15
Jim Joseph
M
64
29:12
9:23
16
Roger Lembrick
M
64
29:56
9:38
17
Scott McMullen
M
56
30:05
9:40
18
Ken Levy
M
43
30:51
9:55
19
Nicole Chaffin
F
38
31:11
10:02
20
Ethan Holman
M
13
33:29
10:46
21
Bob Ross
M
66
33:54
10:54
22
Joanne Ross
F
69
35:37
11:27
23
John Robinson
M
44
35:38
11:28
24
Sally Anderson
F
45
35:44
11:30
25
Nobu Duringer
M
6
40:22
12:59
26
Jon Duringer
M
49
40:23
12:59
27
Claudia Holman
F
72
42:42
13:44
28
Cesar Martinez
M
16
46:37
15:00
29
Justin Chaffin
M
7
47:24
15:15
30
Kyle Chaffin
M
42
48:33
15:37
31
Attila Duringer
M
7
48:33
15:37
32
Athena Duringer
F
4
50:00
16:05
33
Julia White
F
42
50:01
16:05
34
Michelle Garson
F
48
1:20:00
25:44
35
Wally Garson
M
46
1:20:00
25:44
_____________________________________________________________________________________________________________________
August 16th, 2008 @ 8AM
Skamania County Fairgrounds (exhibit hall) Stevenson, Washington
Results for the 2008 5K
| | | | | |
| --- | --- | --- | --- | --- |
| Place | Name | Age | Finish Time | Pace Per Mile |
| 1 | Preston Brashers | 26 | 20:36 | 6:37 |
| 2 | Austin McCrum | 16 | 20:50 | 6:42 |
| 3 | Madeleine Sellers | 50 | 21:04 | 6:46 |
| 4 | Nathan Sellers | 51 | 22:02 | 7:05 |
| 5 | Gary Daubenspeck | 40 | 22:17 | 7:10 |
| 6 | Kjerstein Brashers | 23 | 22:25 | 7:12 |
| 7 | Jim Brashers | 54 | 22:32 | 7:15 |
| 8 | Chris Karchesky | 34 | 25:40 | 8:15 |
| 9 | Kelly Brashers | 19 | 26:55 | 8:39 |
| 10 | Tye Crandall | 28 | 27:13 | 8:45 |
| 11 | Mark DeLong | 46 | 27:13 | 8:45 |
| 12 | Tiffany McCrum | 39 | 27:29 | 8:50 |
| 13 | Jamie Willis | 19 | 29:31 | 9:30 |
| 14 | Esther Holman | 44 | 29:32 | 9:30 |
| 15 | Kathy Brashers | 52 | 31:14 | 10:03 |
| 16 | Lisa Belding | 31 | 38:18 late start! | 12:19 |
| 17 | Attila Duringer | 6 | 51:06 | 16:26 |
| 18 | Mariah Holman | 13 | 55:02 | 17:42 |
| 19 | Lisa Eagan | ? | 55:29 | 17:51 |
| 20 | Claudia Holman | 71 | 55:29 | 17:51 |
| 21 | Claudia Robinson | 60 | 55:29 | 17:51 |
| 22 | Nobunaga Duringer | 5 | 56:45 | 18:15 |
| 23 | Jon Duringer | 48 | 56:45 | 18:15 |
| 24 | Athena Duringer | 3 | 1:02:40 | 20:10 |
| 25 | Julia White | 41 | 1:02:40 | 20:10 |
| 26 | Dakota Marr | 13 | DNF | |