March 2023
Columbia Gorge Running Club 2022 Annual Report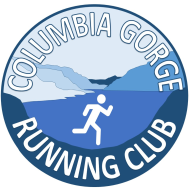 While 2023 is already underway, it's time to recap the past year's accomplishments as we look ahead to the coming year.
Highlights from 2022:
Successfully hosted 8 races, including one new event – the St. Paddy's Leprechaun Pub Hop 5k. A big thank you to Bob Hagan and Madeleine Sellers for organizing that event. The 2023 edition will be happening on March 18, 2023.
Had 94 members. If your 2023 membership isn't current, you get great discounts on races, as well as help support youth runners.
Provided $10,863 in support to the cross country programs at the 4 public high schools in the Gorge (The Dalles, Hood River, Stevenson and Columbia/White Salmon).
Collected hundreds of pounds of food and $700 in cash at the Stevenson Turkey Trot, which was donated to the local food bank.
Refreshed our logo, and even got some running hats made with the logo on them.
Added a new weekly group run to the weekly line up:

Tuesday – 6pm at Ferment in Hood River
Tuesday – 5am at Kainos Coffee in The Dalles
Wednesday – 7:15am at White Salmon Bakery
Thursday – 6pm at Walking Man in Stevenson
Friday – 7am at Pine Street Bakery in Hood River

CGRC was selected by Ferment Brewing to be their Giving Local recipient in April, which resulted in a donation of $875 that was used to help support our local high schools
It was great having a fairly "normal" year as far as races and events go. While we did have to cancel one of our maquis events, the Three Corner Rock 50k last September, we plan to hold that event this year, as well as bring back the SW Fire on the Mountain half marathon, which we haven't held since 2019.  So there are 10 events currently on the 2023 calendar; all of which should be fantastic, so please plan to come out and race or volunteer.  There may be one additional race added as well, which will be in partnerships with Gorges Beer Co in Cascade Locks, so stay tuned!
One of the big items we are working on for 2023 is a way to even better support youth runners in the Gorge.  While contributing nearly $11,000 this past year was a sizable contribution for a small non-profit running club, we have been working to develop a program for providing running shoes for student athletes in need.  The goal is to have that program in place before cross country season begins this fall.
If you want to get more involved with the club, please reach out to columbiagorgerunning@gmail.com.  To join or renew your membership, as well as find out about everything the club has going on, be sure to check out: www.columbiagorgerunningclub.com
May 2022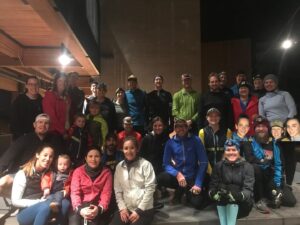 Creating Ripples…and Good Mojo
By Heather Pola
It was early summer of 2011. While ordering my fluffy coffee concoction, I asked Bryan McGeeney about the poster hanging by the register at 10Speed Coffee in Hood River, OR. McGeeney said it was a new ladies ride and encouraged me to go next door to Dirty Fingers Bike Shop and find out more about it. Being a newbie to mountain biking, I was 100% petrified. After a couple chats at the bike shop and seeing the poster several more times, I got up the courage to show up. What evolved from partaking in the Dirty Fingers Ladies ride…has created many beautiful ripples in my life. Not only have I become an avid cyclist, I've met so many amazing people along the way. People that have become dear friends.
Fast Forward to December 2014…THE DONUT RUN WAS BORN! Sure, it was a few years of enjoying the group bike rides out of Dirty Fingers that got me thinking, WHY NOT A RUN VERSION of the ladies ride? A co-ed run group. Back to another chat with good Ol' McGeeney, who was opening a 2nd location of 10Speed Coffee in Hood River. The conversation was something like "Hey McGeeney, can I start a fun run from the new location? I want to call it the donut run. It will be about 4 miles and then…will you gift the group coffee and donuts post run?" McGeeney enthusiastically said "Sure!" The Donut run went on to do the same thing as the ladies ride did for me. A collective of awesome people showing up to run and enjoy each other's company. The group consisted of out-of-town folks visiting Hood River, regulars, the every now and then-ers, and all the mix that made it so fun and special. A place to break a sweat, make new friends, and catch up with old friends. GOOD TIMES all around.
What evolved out of a bike shop group ride has been the inspiration to create the same vibe for weekly group runs. All it really took was the desire to create something that others would want to be a part of. A collective, if you will. It takes one person to ignite the passion, then the baton is passed, and others are helping create the ripples. At present, the group runs that have erected in the Gorge have done what they do naturally, grow legs of their own.
When you have the energy to want to elevate something, it takes a collective to make it truly be a group endeavor.
And more runs grew to be…
In 2019 my friend Nancy Runions and I chatted about starting a fun run in the evenings. A pub run of sorts. We launched the Ferment Fun Run in January of 2020, it was amazing…until the pandemic pulled the needle off of the boogie down party record in early March. Fast forward to NOW and the Ferment Fun Run is going strong. A smooth blend of quality diversified mullet. Business and party, all around. We have folks on foot, all paces, running, walking, biking, and scootering. ALL AGES in one place for 4 miles. And quite frankly, there is no rule on completing the entire flat as a pancake course, if you're just wanting to get out and move, but not quite ready to do the whole course. Every Tuesday evening, we meet outside Ferment at 6:00 PM, do the fun run/walk, followed by a complimentary beer, soda, hot chocolate, or house made lemonade.
And those ripples, there are plenty more fun runs in the Gorge these days. The following are blurbs shared by local group run leaders within our community. These are folks that were frequenters of that good Ol' DONUT run, and or Ferment run… that now have their very own fun runs in their neck of the woods. Each run is listed on the CGRC website and includes a point of contact, should you have any serious or non-serious questions 😉
Holly Todd explains "So, my story with the 10Speed donut run is this – I arrived in Oregon on Wednesday June 13, 2018. I walked into Shortt Supply on the 14th and asked about two things – a job and any group runs in the area. Brian Shortt told me about the donut run and I made it a point to attend on that very first Friday."
 "When I moved to Oregon from New York, I knew it would be most important to plug into a community. The running community was an easy go-to, as running is a universal language of celebrating each other in search of those individual goals. I had just left my "tribe" of NY runners, and I knew that my happiness would be directly correlated to finding friends. For the first year of living in The Dalles, I made the drive nearly every Friday to do the donut run before my shift at Shortt Supply. When I accepted a new position in The Dalles, that no longer worked into my schedule."
  
"One morning, in June 2019, I was walking my loop around downtown The Dalles and was feeling a little homesick for a group run. I found myself wishing that I had a group in my new hometown. It was on that walk that The Dalles Running Club and the Kainos Coffee Run was born. I thought to myself, I could form a group here and I took my cue from the donut run. I walked straight into Kainos and asked to speak to the manager. She agreed to a free drip coffee for all the runners at the end of our run. She asked when I wanted to start, so we pulled out a calendar and picked a day a couple of weeks out."  This run happens every Tuesday morning at 5am. Kainos Coffee in The Dalles, OR. Paved 4.5-mile run. All paces encouraged. 
Taylor Kennedy, the leader of the Pine St. Bakery Hood River Friday Fun Run shared that "It's a no-drop run that has a soft start at 7:00AM. It's usually got 10ish people on it of varying abilities and about 2-5 dogs who are all faster than us. Most people who come on the run are transplants looking to get plugged into the running community."
*The Pine Street Bakery run was born out of keeping the donut run going. The 2nd location of 10Speed was sold, so a solid group of regulars have done a wonderful job of carrying on the weekly fun run. Kudos to Taylor and crew!  
Another former donut run lover, Sissel Holloway started a 4-mile fun run on Wednesday mornings at the White Salmon Bakery. Sissel explains "I moved to the Gorge area in 2016 and the first thing I did was go to Shortt Supply and asked where I could meet other runners in the area. Luckily, Mark Chamley, the legend, was working and he steered me in the direction of the donut run.  This was even better, pastries and running, a match made in heaven. Bakeries and coffee shops are great gathering places for the community, so why not add a little exercise in there to work off those buttery calories. After a few early morning Friday meet-ups, I quickly accumulated a rad group of like-minded running buddies.  Friends ranged from nerdy IT folks to hardcore ultra-geezers, out of towners, and folks that just needed to exercise their dog. Shortly after, the pandemic hit and this was our only outlet to any sort of human connection. I moved over to the White Salmon area and started a small meet-up on Wednesday mornings at the famous White Salmon Bakery. The bakery is famous for its cardamon buns, so my friend, Lauren, and I decided to name it the cardi b run 😊  We meet at 7:15am, run 4 miles on the hospital hill trails, and finish with a free cup of coffee at the bakery.  The people I have met through this group have become close friends. We have dinner parties together, go mountain biking together, and cheer each other on at local races. I am grateful for creating community through movement and food, the two passions of my life."
President of the Columbia Gorge Run Club, Torrey Lindbo, describes the newest weekly run to our Gorge collective: "At the beginning of April 2022, the running club started up a new group run in partnership with Walking Man Brewing in Stevenson, WA.  The concept of the run is very similar to the Tuesday night run from Ferment – meet at the pub, go for a run, then get a pint on the house when you return.  After the club hosted a successful inaugural 5k race from Walking Man in March, the St Paddy's Leprechaun Pub Hop, brainstorming ways to improve next year's race was an easy lead-in to a discussion with general manager, Xavier Gates, about ways to engage the running community before next March.  As Xavier shared, giving away some beer might be a way to get people to show up, but hosting a run on his usual day off was also motivated by his own desire to get out for a run at least once a week.  I put together some 3 to 5 mile run options from the pub, most of which stay relatively flat along the Stevenson waterfront and over along Rock Cove by the Skamania County Fairgrounds.  So far, a lot of the runners who are showing up have been opting for the 3-mile route, but everyone seems to be selecting the post-run beer.  Whether you are up for 3 or 5 miles, everyone is welcome to join us at Walking Man on Thursdays at 6pm."
When I think back to that first group ladies ride and how it inspired me to start a fun run to create the same inspiring synergy with folks who love to run, it gives me an endless smile. I'm forever grateful for that day I stumbled into 10Speed Coffee in the Heights, as it evolved into so much more. Now the Gorge has 5 amazing co-ed fun-runs! And as I said, when you're inspired to elevate something, it grows and creates legs of its own. The above-mentioned group runs have created wonderfully inspiring ripples within the community. Should anyone be interested in starting a group run in their neck of the woods, the CGRC is more than happy to help you make it happen.
In closing, I will remind you all "If you can't be good, be good at it!"
Love, Heather Pola
---
March 2022
Gorge Trails – Before and After the Burn
Story by: Will Rice
Introduction
For those who have been running in the Columbia River Gorge for a long time remember the trails before the 2017 Eagle Creek Fire. Two recently opened trails allow those individuals to come back and see the changes that the fire brought to the landscape. It also provides an opportunity for those who didn't experience the trails before the fire to come and experience what the future of the region looks like. Through thousands of man hours the forest service, as well as trail rebuilding organizations like TKO and the PCTA, have made it possible for some of these trails to become publicly accessible once again. The Oneonta and Eagle Creek trails provide individuals with opportunities to go out on adventures of various length and difficulty. 
ONEONTA TRAIL
Trail Facts: 8 Miles, end point Larch Mtn, 4400ft of elevation gain. 
The Oneonta Trail is the most recent Gorge high country trail to re-open. On December 3rd, 2021 it became the closest backcountry trail to the west of Eagle Creek to become available for the public to enjoy. The Oneonta Trail creates possibilities for a wide variety of long run loops. A 15 mile loop can be created by going up Oneonta to junction with Franklin ridge, or really ambitious individuals can take it all the way up to Larch Mtn.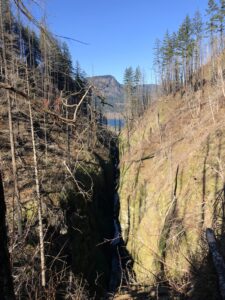 Looking down the Oneonta Canyon about a mile up the Oneonta Trail. Oneonta Gorge is still closed as there are multiple hazardous log jams in the slot canyon.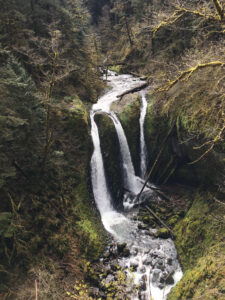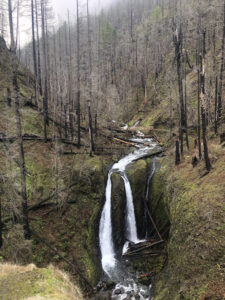 Triple Falls is about 1.5 miles up the Oneonta Trail which recently opened up earlier in the winter of 2019. From top to bottom the waterfall is picture pre and post burn. Before the fire there was a big campsite to the left of the falls. Unfortunately the slope eroded and what little remains is covered in down trees and rocks.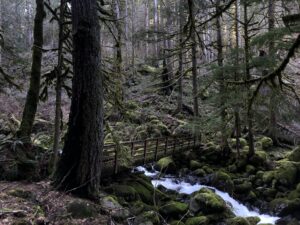 At about 3 miles, the trail crosses Oneonta Creek again. This bridge and surrounding area were untouched by the fire. The old bridge still has moss growing on it. From here, the trail will change in burn severity on the way up Franklin Ridge.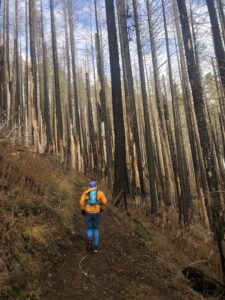 There were a few sections of the trail that got completely torched, with no trees in the area surviving.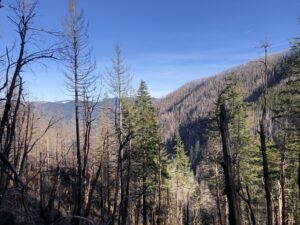 As a result of the fire, many points along the trail are much more open than they used to be. Here you can see down the Oneonta canyon and get a glimpse of the ridge to the east that leads to the Horsetail Creek Trail.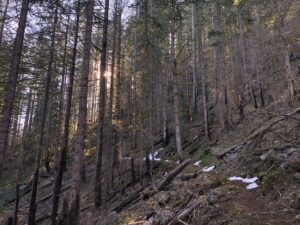 As the trail continues to climb higher, much of the trail is only lightly burned. These areas are encouraging to see and preview the upper parts of the trail that were untouched by the fire.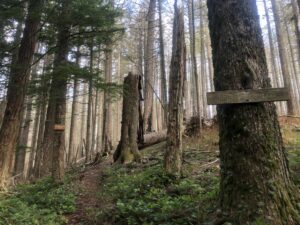 Looking down the Oneonta Trail at the junction with Franklin ridge. Most of the remaining 3 miles of trail to Larch Mountain were untouched by the fire and provide a nostalgic look at the Gorge pre-burn. 
Eagle Creek
Trail Facts: 14 miles, End-point Wahtum Lake, 3500ft elevation Gain.
Eagle Creek took nearly 4 years to open after the Eagle creek fire of September 2017. This steep canyon suffered many washouts and landslides due to the fire. Several bridges had to be replaced and hundreds of volunteer hours made the reopening of this trail possible. Hikers and runners are now able to see the devastating effects of the fire and also admire the remarkable work of trail crews on this trail that starts at the river level and ends at a wilderness lake in the gorge high country.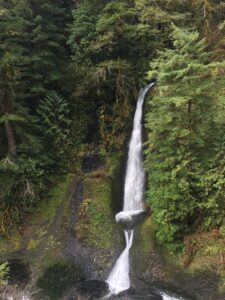 Wauna Falls appears across the canyon about a mile up the trail. Much of the surrounding area around this two tiered waterfall was burnt. A side trip can be made from the Eagle Creek Trailhead that climbs 1.5 miles up Wauna Viewpoint. While you can't see the Falls below from the Viewpoint, you do get a view down the Eagle Creek Canyon, however there are a few power lines in view.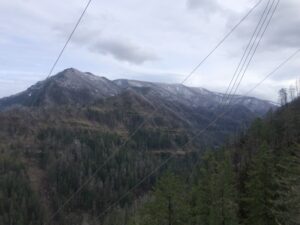 Wauna Viewpoint
Photo Credit: Oregon Hikers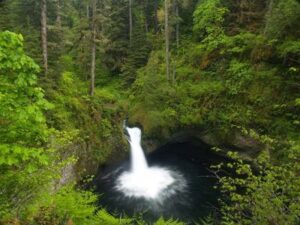 Punchbowl Falls, one of the first major waterfalls on Eagle Creek. This is where the 2017 fire originated. These photos are 5 years apart and show the devastation the fire had in this canyon. There used to be a trail that would take hikers to the waterfall, but that trail is now gone as much of the cliffside washed away after the fire.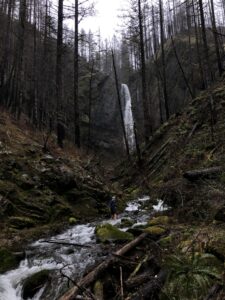 Just after crossing Wy'east Creek, the junction with the Eagle-Benson Trail appears. Before the fire this trail would lead up to the PCT on the Benson Plateau. The trail from the bottom is now completely obliterated. Several hikers were rescued last summer trying to follow the trail up to the PCT.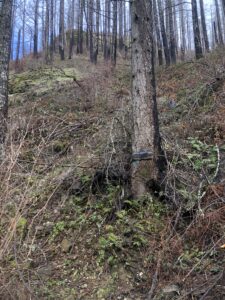 Wy'east Falls, about 5 miles into the Eagle Creek trail. This waterfall was previously hidden by trees from the main trail, after the fire it is clearly visible when crossing Wy'east creek.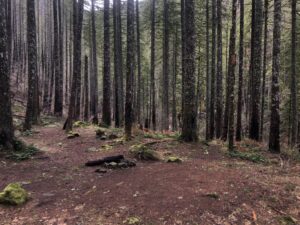 (Top) Formally known as Wy'east Camp. The camp used to be right along the trail, this area is now under restoration after the fire. There is a small trail that goes uphill for about 50 yards to the camp's new location. There are enough flat spaces for a few tents. (Bottom)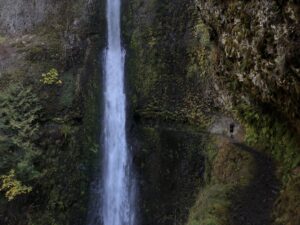 Most hikers and runners on Eagle Creek will either turn around at Tunnel or twister falls. Luckily there is still plenty of green still left at these famous destinations.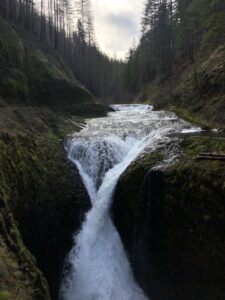 Twister Falls, mile marker 6.5 of the Eagle Creek Trail. Shortly after this waterfall the trail stops paralleling the creek and starts a more direct route to Wahtum lake.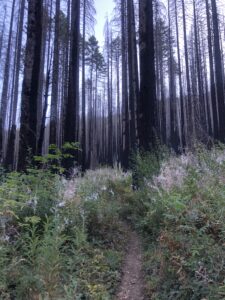 Shortly after Twister Falls, Eagle Creek starts gaining more significant elevation. The next 4 miles of the trail are burned badly as you head towards Wahtum Lake. During the summer months, this section is hot as there is hardly any shade as you climb up the canyon.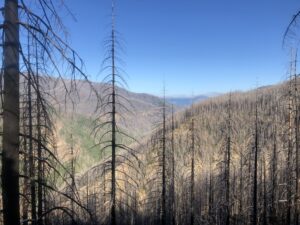 It is hard to fully grasp how destructive the Eagle Creek fire truly was. There are multiple views from the upper parts of Eagle Creek that allows trail users to look down the Canyon where the 2017 fire originated.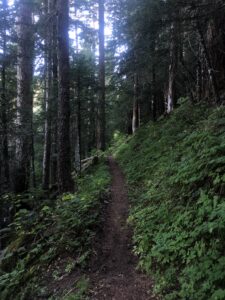 Luckily, the last 3 miles of Eagle Creek were not touched by the fire. After 11 miles of burned forest and canyon walls, the end of the trail is very green and healthy, which provides a reminiscent picture of what the entire Hatfield Wilderness used to be.
---
February 2022
I'll Draw You a Map: Post Canyon
Story by: Dustin Welch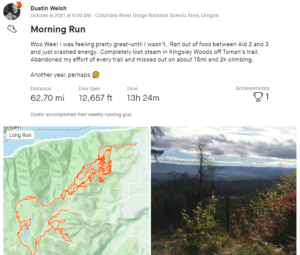 It seems most trail running stories I've read somehow end with a life lesson imbued from the experience. This isn't one of them. This is simply a story of how I spent most of 2021 in pursuit of a single goal – running every trail in Post Canyon in a single activity. This challenge I call "I'll draw you a map."
"Go when you have time to get lost." That's the advice I've given anyone who has planned on going to go Post for the first time on their own. It comes from a place of experience – when I first started running there I got lost the first handful of times, and several more thereafter!
Despite its popularity and heavy traffic (good luck with parking on a summer day after 10a), it is surprisingly easy to take a wrong turn. The classic "lollipop" route has over a dozen intersections within its 6 miles. In part, this complexity attracted me to the challenge of running every trail. Beyond the physical challenge, there was some serious route planning to do!
As there is no "complete" map of the system I used a couple of different sources but did most of my mapping through Trailforks. I split the system into 5 sections and set to work mapping out efficient routes to hit the trails within those subdivisions. I worked with a few guidelines: First, no artificial out-and-backs. Everything had to be a continuous loop unless the trail forbade it by design (like Yogarobics, a hike-up and free-ride down). Second, some areas – like Family Man –  are incredibly interwoven, and I didn't need to run every possible intersection. Instead, I would run enough to give a good impression of what's there. The third and last guideline was that forest service roads are boring and therefore I would use them minimally.
After many hours of working and re-working I had my routes! I would run them as my weekly long run every few weeks or so. During the run I could survey for unmapped trails or figure out what to do when the trail no longer resembled what was mapped (e.g. Borderline/Whip Snake). If I started right away I could make my big attempt in early summer before things got too hot.
Men plan and God laughs and all that…On my first exploratory run I had a flare up of my Achilles tendon. This was a repeat of a condition that I experienced in spring of 2020. Then, I tried to run through it to the point where walking hurt, but this time I knew what to do. I cut my run short, 8 out of 24 miles short, and ran – then walked – back to my car. Come Monday I made an appointment with a chiropractor. I first went to the chiropactor for my Achilles in 2020 and when he treated me with a laser it was difficult to not be snide. Seriously, I mean "frickin' laser beams."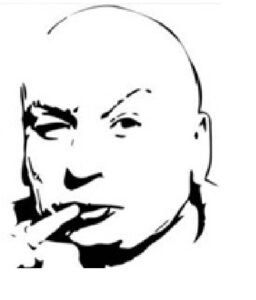 However, having limped in but pranced out I was a believer in the treatment. This time it only took a couple of appointments and I was able to run the Mac 50K without any issues just a couple of weeks after my flare up.
Picking back up in late May I was able to run my sections. It was great to run on some trails I hadn't been on in years and visit a few new ones. It was kind of like meeting up with old friends.
"Look at your fall colors Sexy Beast!"
 "Oh geez Whipsnake – you're bald and kind of a hot mess now. I'm sorry for what has happened to you."
 "Baby Heads, you haven't changed a bit. I remember why I stopped coming 'round."
 "Hi Tomans Trail, nice to meet you!"
There were a couple of areas where no route planning was possible. Of course anywhere near Kingsley Reservoir was unpredictable. There's also several jeep trails out past Super D and Kingsley that aren't really mapped. I remember running some of them during the Post Canyon Half several years ago, but I also remembered them being less overgrown. While exploring the jeep trails I encountered a crow. We met eyes and then spent the next quarter mile playing leap-frog. I'd run underneath her, and in a short bit she'd fly ahead on the trail and perch, waiting for me to pass again. I've been swooped by owls, pranced with deer, danced with coyotes (twice, terrifying!) skedaddled with forest mice, and haunted by opossum (they can return from the demonscape from which they crawled from), but playing a game with this crow is one of my favorite animal encounters.
I finished exploring at the end of September and was now free to plan the final run. I sat down with my Strava logs and a spreadsheet and got to work. I knew I could have Post Flats and Riordin Hill staging areas as aid drops, so I used my running times during my exploratory runs to predict running time between aid stations. I would hit Post Flats twice for aid and Riordin Hill once.  Using my estimated times I made fueling and water needs to get me to the next aid. If it's not obvious I tend to be detail-oriented and a structured planner.
Between finishing my last section and my big effort I thought frequently about the route. Could I make it more efficient? What sections needed the most focus to not make a mis-turn? If you remember the scene from "Cool Running" where Derice is in the hotel tub memorizing turns for the upcoming race, that was me laying in bed falling asleep to thoughts of turning off Lower 8 Track onto Mixtape only to turn back onto Lower 8 Track.
The day before my all-trails effort I made my drop bags. Years of accruing running bottles and bladders finally had a point! I would start with a 2L bladder, drop that for two 16oz handhelds, switch those for a new 2L bladder and 2 24oz handhelds for the big push from Post Flats up and over Super D and dropping down to Riordin where I would have another 2L bladder waiting. Various gels and snack bars were sorted into ziplocks and each bag was equipped with a doggy bag and some toilet paper because you know, leave only footsteps. Impulsively I made a peanut butter tortilla with sriracha for my second Post Flats bag (Thank me now and make it later: Delicious!) I drove around and hid my drop bags at each staging area. I've had several bikes, college books, tax forms, and even a car stolen from me. To this day when I walk out to a parking lot or bike rack I still have a moment of dread followed by celebratory elation when my vehicle is where I left it. The next night was to be spent in angst over someone messing with my bags.
Waking early, I drank my coffee on the drive to "where the gravel meets the road". Even though the lowest trails were closed due to crotchety attitudes I would still run the approach up to Seven Streams from the Post Canyon staging area.
Shoes tied. GPS activated. Floral-print hat donned. I was ready.
I started up the forest road and ran the lower section of trails. My first sighting of other people was about 2 1/2 hours later as free-riders were playing on Yogarobics and Extended Play. A little more than 4 hours after the start I reached my first aid station at Post Flats. I saw my wife's van parked which meant she and my two littlests were nearby – we had made plans to meet about now – they should be walking along my route. Waters and snacks loaded I resumed my run, heart simmering with anticipation.
Seeing my kids and wife on the trail was such an amazing moment! Probably the best few minutes of the run to walk with them and hang out for a few minutes at the van as we talked and exchanged hugs.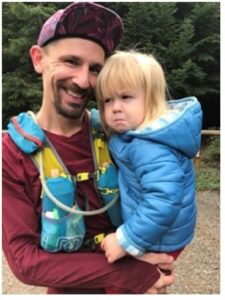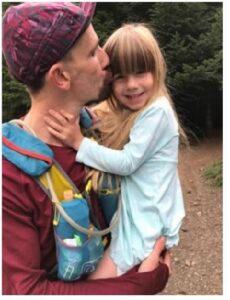 Soul fulfilled – onward I went into the next leg of my journey. A 2 1/2 hour section climbing up Blue Car Downhill and wandering around Hybrid XC, Whipsnake, and Borderline to return to Post Flats on Blade Runner. At the start of Blue Car I started feeling warm and slightly dizzy. There may have been  'sparkles' in my vision too. I remember feeling fearful that my attempt was over. I took off my long sleeve shirt and ran the remaining 8 hours in a singlet. I drank water and ate some snacks ahead of schedule and reminded myself, "You can do this. You can do this. You can do this." About 30 minutes later I started to feel normal again.
While running (okay, walking) up 3 Blind Mice I encountered a group of free-riders checking out the jumps. My route had me go down Hybrid  XC and then return again up 3 Blind Mice (no out-and-backs, right). Seeing me for the second time gave this group a hint that I was doing something strange.
I encountered them again at Egg Hunt, where I also found a new trail I had missed in my exploratory runs. It was an alternative to the jump line but I felt it was different enough in character and vector to be significant. That was an impromptu extra mile.
Later, while descending Blade Runner I ran into the free-riders again and finally, finally, after years of visiting, finally got to see someone do the jump at the bottom of Blade Runner. He wiggled the front tire on the landing and crashed. In a moment of moral failure, I turned and kept running. A couple years ago I halted a long run to aid a biker who had broken their arm on Mitchell Ridge. I couldn't get caught up in that drama today. The Blade Runner jumper had a group to aid him if needed, but I do still feel conflicted about not checking to see if he was okay or they needed more hands.
Back at Post Flats I devoured my sriracha and PB tortilla – I regretted not using the large tortilla. The next section was going to be the hardest – a single long climb up to the top of Super D and then miles of rocky jeep trail. Between Post Flats and Riordin Hill I had about 30 miles and at least 4k feet of climbing. As I was ascending Borderline I could feel agitation on my Achilles. I stopped and noticed a blister, thankfully I had packed a little Lueko Tape which I used to tape both Achilles. After the fact when I was back at home I discovered that these blisters were over 2 inches in diameter and had already burst. I spent the next 3 weeks with tape over them.
With the problem solved I kept on keeping on. At the top of Super D I started making impulsive and indecisive choices. I thought maybe I could change my plan and take this one trail down to a forest road which would join up with another trail and I could ascend that once, instead of having to do it twice.  I ran for a minute and then started doubting myself, "Is there a forest road there?" I turned around and ran back for less than a minute. "No, it'll be fine, take the shortcut." I turned back-back around and ran 15 paces, "No, stop, what if there isn't? Is it worth it? You'll have to climb all the way back up this!" I turned back-back-back around one last time and cemented my intent to return to the original route.
The jeep trails felt less technical than I feared they would this late in the run. I made decent time to Kingsley Reservoir. At the north end of Kingsley I saw a figure in the distance. We exchanged waves and I turned away onto another trail and kept running – thinking to myself, "That's weird there's a hiker out here." As it turned it: Not a hiker, but Howard, a fellow runner! I had been live-streaming my adventure using my phone and Strava's Beacon feature so anyone who was interested could follow along. He had been tracking my progress, and even though the signal had cut-out due to no cell-service he managed to find me. We ran the remaining jeep trails together and began the descent down Larix together. It was a pleasant break from being alone with my thoughts to talk to a friend.
While running together I was feeling famished, my packed snacks and water were not enough. I was too proud to ask Howard if he had anything to share. Perhaps I should've though. Shortly after parting ways I engulfed my last snack bar and sipped the remnants of my water. I had 6, maybe 8 miles of steep ups-and-downs (the trail, and my emotions) before reaching my planned aid at Riordin Hill. I started thinking about alternatives, could I skip out on Tomans and return to it after getting refueled? Nah, that'd be an extra 4-5 miles with about 700 ft climbing. Maybe I could go directly to Riordin instead of taking the connector up to Dirt Surfer and then dropping down into the staging area? Maybe, but I have to get through Tomans first.
Tomans Trail is a secluded trail system south of Riordin Hill. To me it's shaped like a 3-leaf clover. The central nexus has 6 trails with each pair looping roughly in a petal shape. With two access points off Larix – a short and steep descent and a longer rolling approach – I would be going in on the rolling one.  My energy faded with the daylight and partway through the first petal I felt I couldn't make it. I stopped at the nexus for a brief moment, and with a heavy sigh started up the steep exit – abandoning the remaining two petals. 60 miles completed out of 75 or 80, and I was done.
I called my wife to tell her I was dropping out, and asked if she could come get me at Riordin. Bless her heart she was already there, waiting with all three of our kids! She had been planning on surprising me, but unfortunately I was still miles away, slow miles away as I could barely muster a running gait on the flats. We decided she'd leave and come back after our littles were asleep (this meant hours).
Walking into Riordin there was one car remaining. I sat down with my drop bag and discovered another surprise my wife had: A fresh peanut butter sriracha tortilla! For reals, peanut butter and jelly may be your jam (see what I did?) but I'm all about that PB and S.
As I was waiting and eating a couple of bikers walked in and started loading up in the remaining car.
"You alright?" one of them asked.
"Yeah, I'm good," I said without enthusiasm.
They continued packing up, and before they left asked one more time if I was alright or wanted a ride. In the age of COVID I was weary of car rides with strangers, but I was also cold. I accepted their offer and we drove down to Post Canyon staging together, exchanging stories of our days. They were amazed at my goal and distance traveled. I was in awe they walked their e-bikes 6 miles from Family Man after the batteries died. Turns out without a battery those things are bricks.
After returning home and having time to reflect, I thought about how in trail running, as in life, loved ones are the best aid, and there should always be more peanut butter with sriracha.
Fine: I suppose this story has a larger lesson, too.
Link to Strava activity:                               
https://www.strava.com/activities/6093214782
---
January 2022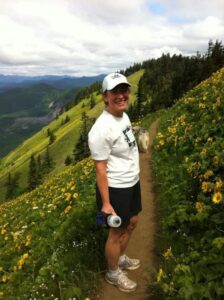 Member Profile – Anna Bates
1. How long have you been running and what got you into it?  
I have been running my entire life.  Not well, or fast, but ever since I can remember.
2. What Columbia Gorge Running Club activities have you been involved with? 
All of them. Ok, I exaggerate a little.  I was there at the conception with Scott Pineo from Parks and Rec, Stan and Esther Holman, Tiffany McCrumb, Joni Hawthorne (who was the instigator and then never participated), and I believe Jim and Kathy Brashers.  I remember Kathy wrote our mission statement.  Stan and Esther started track workouts and we put on a 5k a month.  Scott Pineo put on the first Ridge Run starting in the basement of the American Legion Hall!  And the club grew from there.  Stan and Esther did the lion's share of the work to get the club launched.  Stan made a bunch of stuff and managed all the equipment for the club along with being the president.  Esther was secretary putting together registration packets and timing races. Eventually they brought in Claudia Holman, Stan's Mom, to be the treasurer and other people got involved like Sophie and Chad Miller, Madeline Sellers and Bob Hagan, Rodger Lembrick and Jim Joseph.  I wasn't so involved in the beginning, leaning on Stan and Esther, but I've either run or directed or volunteered at most of the club's races throughout the years and served as president for something like the last 7 years.  I'm happy to pass the torch to the enthusiastic and capable Lindbo team!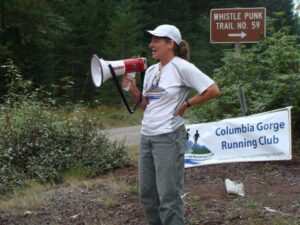 P.S.  I'm most proud of the Turkey Trot.  Stan and I started that the year before the inception of the club.  I like the community feel and comradery.  I like donating all the proceeds to the food bank.  It's just cool!
3. What's your favorite distance/type of run?
I like distance runs as I am slow but determined!
4. What's your most memorable running moment/event?
There are so many!  My favorite things I've done are to circumnavigate Rainier in 3 days, the Hardrock course in Colorado in 5 days (softrock) and a double crossing of the Grand Canyon which I've done 10 times cuz it's so fun!  I'm more of an adventurer than a runner.  I just run so I can go great places.
5. Without giving away anything top secret, what's your favorite place(s) to run in the Gorge? 
Dog Mountain and Hamilton Mountain are the top of the list.  I think the Bunker to Bonneville course is great!  There are so many great places to run here that it's hard to pick favorites. 

6. Is there a favorite food or drink you crave or feel you have earned after a really hard run or race? 
French Fries!  Not just the skinny kind, I mean steak fries! Washed down with a beer. Beer is my nemesis!  
7. What is the best running advice have you received? 
Run when you can, walk when you have to. Or, don't be afraid to use salt tabs.  Or, shorten your stride when going up hill.  Or, have a training plan!
8. Tell us one fun fact, hidden talent, or something we don't know about you, but should.
I want to be able to sing!  Haha!  Not just the chirping crap I do but really sing, maybe Opera!  It's probably too late for me but I'm thinking about taking some voice lessons!  Silly!
---
December 2021
Columbia River Gorge Triple D Challenge
By Torrey Lindbo, President, Columbia Gorge Running Club
The "Triple D" – Defiance, Dog, and Devils Rest, all in a day.
Columbia River Gorge runners are well aware of the fact that there aren't a lot of flat places to run in the Gorge.  Enjoying most of the amazing trails we have available means you spend a lot of time going up and then down.  Those who have embraced the climb are no doubt familiar with all 3 of the trails involved in this challenge, but did you know it is actual a "thing" to hit all of these in a single day?
The "Triple D" is nearly a marathon with more than 10,000 feet of elevation gain (and loss).  While climbing any of these 3 peaks isn't easy, the loss might actually be the hardest thing about taking on this challenge.
I don't know the exact history of this crazy adventure that takes you to the peak of Dog Mountain, Mount Defiance and Devils Rest, but from what I gather, the mountain-loving Mazamas were the ones who came up with this climbing challenge.  I can't imagine taking on these 3 climbs in a pair of hiking boots, since the better part of a day is required, even with your favorite pair of trail running shoes.  For reference, the Fastest Known Time (FKT) appears to be under 7 hours for men and under 8 hours for women.  
As the challenge exists, you can take whatever route you want to the peaks of the three D's.  Whether or not you are attempting to set an FKT, or just trying to be efficient with the logistics for getting from one trailhead to the other, my recommendation is that you do them in the following order:
Devils Rest – 6-8 miles. 2,600 feet.
Mount Defiance – 11 miles. 4,900 feet.
Dog Mountain – 6 miles. 2,800 feet.
The primary reason for that order is because it minimizes the travel time between trailheads.  Whether going for the FKT, or just trying to get done before dark, travel time counts.  Mt. Defiance is between the other 2 peaks, and the Starvation Creek TH (where you start for Mt. Defiance) can only be accessed from I-84 eastbound (and only allows you to get back onto 84 eastbound).  So while there might be a tendency to want to hit the hardest one first, the travel logistics make this order best.
The next logistical thing to consider is that bagging these peaks is all about efficiency.  While there are nice ways to mix up the route you take up and down each of these on a "normal" day, if you are trying to complete the Triple D, you want to take the most direct path up and down.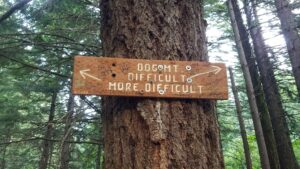 For Dog, that means you are taking the "more difficult" route, as that is slightly more efficient than the "difficult" route, saving you almost half a mile total distance. That half mile isn't a big difference, but you probably want to skip the traditional loop where you come back down the Augspurger Trail.  Taking the most difficult route puts the round-trip distance for Dog right around 5.5 miles.
For Defiance, take the Defiance trail up and down. There's no way to avoid the relatively flat paved half mile from the Starvation Creek TH to Hole in the Wall Falls, where your climbing adventure begins, so just enjoy the flat.  Save taking the Starvation Ridge Trail to mix things up for another day.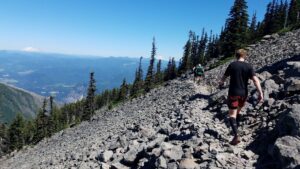 For Devils Rest, you have some choices to make. The most efficient route to the top is going up Wahkeenah Falls then taking a left towards Multnomah Falls at the top, followed by the next right onto the Devils Rest Trail (#420C).  If you take this route and start right at the Wahkeenah TH off highway 30, the distance to the top and back is around 6.5 miles.  The one disadvantage to starting right at Wahkeenah is that you then need to drive Highway 30 east past Multnomah Falls and can't get back onto I-84 until Ainsworth.  For easier I-84 access, you could park in the main Multnomah Falls parking lot, but then you end up running closer to 8 miles roundtrip from your car to/from Wahkeenah.  So long as you are thinking about parking availability and traffic, the shorter run distance might be preferable.  There are obviously lots of great ways you can mix up the route to/from Devils – enjoy those some other day.  Completing the Triple D is all about efficiency.
One other note about Devils Rest.  Technically, you could get there the traditional way, starting at the Angels Rest TH.  While that is a lovely way to get there, the round trip distance ends up being 7.75 miles, and then you either need to spend more time driving down historic highway 30, or can only get back onto I-84 westbound and need to exit at Rooster Rock and loop around.  Wahkeenah is more efficient, plus you get to add a lovely waterfall and creek to the start of your epic adventure.
I know that was a lot of logistics, without a whole lot of reason for why you might want to do this.  Trust me, I'm not to encourage anyone to take this on that hasn't already been up one or all of these multiple times and is now contemplating doing them is succession on a single day.  They are all epic trails in their own right, so if you find yourself thinking you need a challenging day of climbing in the Gorge, the Triple D might be something to consider.
By the way, I was thinking this was a little nutty when a friend talked me into this past June.   Then I saw that another runner I know had done each of these climbs twice in a single day only a week before us.  I suppose life is all about perspective. Whether you plan to climb one of these, all 3 of these, or double any one or all of these, make sure you are prepared and be safe out there. 
---
November 2021
Columbia Gorge Ultra Runner Hits the Triple Crown
In the summer of 2021, Ann Yela accomplished what few runners might even consider doing – running the "triple crown" of 200-mile races within about a 2-month window.  The 3 races that make up the triple crown are the Bigfoot 200, Tahoe 200, and Moab 240.  This is a massive accomplishment, and we are excited that Ann was willing to share some of her experience with us.

I don't think you can start in the present, or at least I can't. No one starts running with the goal of eventually being able to finish the triple crown. The triple crown didn't even exist when I started running in 2010. Most of us, myself included, start hoping to be able to run a mile without stopping. When we accomplish this, we question if we can run a 5k, and then 5 miles, then 10 miles and as you gain confidence in your abilities you might begin to dream of a half marathon. During most of these runs, your goal is to move a fast as possible and hope that the copper you're tasting is a normal side effect and not an indication that your lungs are actually bleeding. 
Winning has never been a goal,  I just wanted to finish. The desire to finish combined with the desire to see how much I could physically and mentally tolerate is how we arrive at the summer of 2021. I had run the Moab 240 in 2018 and the experience changed ultra running for me entirely. Imagine a world where you can run all day and sleep at night…a magical place for a person like me. My next hurdle was the Bigfoot 200 which I finished in 2019. Disclaimer: really beautiful and really really really hard. During both of these races I met other runners who happily gawked with me at those attempting the triple crown. They were the celebrities that we all thought were amazing and simultaneously unwell humans (because who else would do that?). I assumed that anyone attempting this challenge was so entirely devoted to running they could not possibly work a 'real' job. The truth is: I wanted to be one of them but was intimidated. Then one evening which may or may not have been very close to my 40th birthday, the desire to attempt the triple crown overwhelmed me. As if it was a fountain of youth and validation that 40 is the new 30, I signed up. I needed to see if it was possible. 
Due to COVID retractions, I only competed in one 50 mile race leading up to Bigfoot. I definitely put miles in every day but my schedule had to flex around my more than full time job. I also didn't focus entirely on running. Historically, I've run to train for running but I was more concerned with burn out and injury than anything else. I knew that I could cross the finish line once, but three times in three months was laughable. So, I spent my mornings running and my evenings working in the yard. We live on 10 acres and I push mowed our yard as well as our driveway that climbs 400 feet up to our house. Translation: I spent a monumental amount of time cross training. I felt a bit undertrained going in to Bigfoot which was my plan. I competed reasonably well and was able to escape injury which is hard to do on a course like that. I was feeling pretty darn sure of myself knowing that Bigfoot was the hardest of the three and I had it under my belt. Within a week, we began getting emails about the fires in and around Lake Tahoe. With only 4 weeks between races, there really wasn't much wiggle room. Two weeks before the race, it was canceled. Ten days before Tahoe, the race director announces that she will be hosting a virtual Tahoe. I spent 48 hours grieving. All the time I had spent training, the spousal pass my husband gave me (and surely would not hand out again)…but mostly: the thought of having to do Bigfoot again in order to get my triple crown about did me in. Then, like all of us have had to do this past two years…I adjusted. I sat down with my husband and running partner and planned out my virtual Tahoe. I would circumnavigate Rainier on the Wonderland trail then take a connector to the PCT and head south to Troutlake. The Wonderland trail has been on my bucket list and I was super excited to get the opportunity. That was a very short sided decision. The Wonderland is amazingly beautiful and really technical, probably not a trail that one would chose when competing in a race. The other factor that I hadn't considered was the lack of camaraderie with other runners and lack of aide stations. Anyone who has competed knows the effect that seeing another runner or an aide station can have; is like an oasis in a dessert. I don't want to discount the extreme amount of effort my fantastic friends/family/crew put in over 4 days to get me across the finish but I know all their stories! All of their jokes, one liners. To be honest, they had to be sick of me too. This is when you find out who your true friends are: they show up time and time again to sit in a van for hours in the pouring rain or slog through the freezing mountains in the middle of the night to keep you company. Both of which occurred during my virtual Tahoe. Once home with my results submitted, I slept. I didn't run, I barely hiked. 
Moab arrived and with it the light at the end of the tunnel. I had been here before and had a spent the last two races getting my gear, nutrition and sleep dialed in. My body went into autopilot and just kept moving. So much so that I was ahead of my projected arrival to crew stations and the finish line by hours. 
Again, thank you to my fantastic family and friends who tolerated 3a dirt naps and tantrums in minus 20 degree weather. I couldn't and wouldn't have wanted to have shared this experience with anyone else! 
Ann lives in the White Salmon area with her family.  Besides working and running an insane number of miles this past year, she has also served as the treasurer of the Columbia Gorge Running Club for the past several years.